Unique, nevertheless plural…
Unique! The Le Mans 24-Hours circuit is unique. Like any other track it has its own special characteristics: two at least make it unforgettable. Firstly, its length. With a lap distance of 13.6 kilometres it is one of the longest in the world with the northern loop of the Nürburgring, a survivor from the era in which Charade, Spa and several others had not yet been shortened.
Its second major particularity, it is not a permanent circuit! From Tertre Rouge to Arnage its layout consists of public roads. So impossible to test your drive outside the practice sessions held before each Le Mans 24 Hours.
Formerly open -on very rare occasions- to other competitions such as the Tour de France Automobile, it now grants this exception to Le Mans Classic only. This allows our drivers to benefit from the third singularity, the third reason, as intimate as it is imperious, which makes one dream: the night… And that is why Le Mans Classic is the stuff of dreams. Chasing the 24 Hours ghost in a car that's already thundered down the Mulsanne straight, switching on the lights, hearing the engine revs rising in each gear whether turn on your headlights, listen to your engine climb all the way up the rev range, at dusk, or at midnight, or in the early morning… Unique!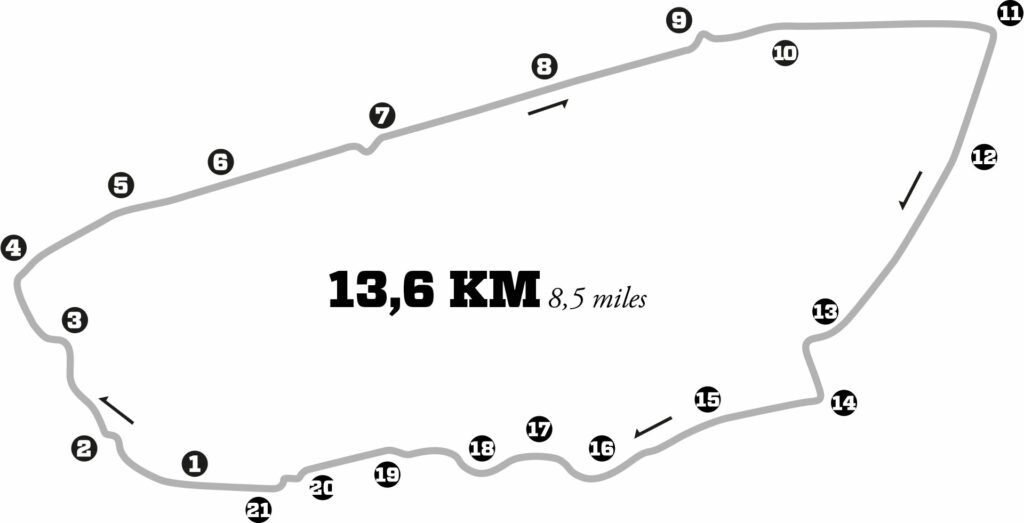 1. Courbe Dunlop
2. Ralentisseur Dunlop
3. « S » du Tertre Rouge
4. Virage du Tertre Rouge
5. Courbe d'Antares
6. Hunaudières
7. 1er ralentisseur
8. Hunaudières
9. 2e ralentisseur
10. Courbe des Hunaudières
11. Virage de Mulsanne
12. Courbe du Golf
13. Virage d'Indianapolis
14. Virage d'Arnage
15. Courbe du Buisson
16. Virage Porsche
17. Virage du Pont
18. « Esses » du Karting
19. Maison Blanche
20. Virage Ford
21. Virage du Raccordement